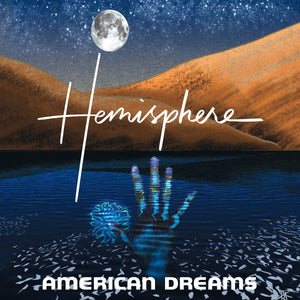 Every song tells a story...
Hemisphere draws on Rock, Pop, Jazz, Fusion and Metal to create inspired mash-ups that blend influences from multiple genres. 
  
Promoting the spirit of 'Unity', 'Diversity', and 'Equality' Hemisphere takes you on a musical and visual journey.
American Dreams showcases vocals from Don Bowman, Rebecca Jade, Leonard Patton and Rob Shinno... so get ready to 'Move to the Music'!
The band features Don Bowman on Vocals and Sax, Mike McQuilken on Drums, Nathan Brown  on Bass and Max Zape on Keys and Rob Shinno on Guitar and Vocorder. 
Special guests include Tommy Aros (Grammy Winner - Fattburger), backing vocals from Rebecca Jade (2020 SDMA Artist of the Year), Leonard Patton as well as trumpeter Derek Cannon and a ripping guitar solo from Zangi Recording Artist Patrick Yandall.
The CD includes a 16 page color collectors pamphlet with song lyrics and artwork.
America 
Dance Club 
Big World 
Transmission 
Home 
Where Do We Go Now 
Letter from NYC to SF 
One Life 
These Are the Days
Sky Full of Stars
America Reprise